Peavine Creek Farm's
Trail Rides

Trail Rides
E-mail or Call for Detailed Information
Trail Rides Daily - Year Round 7 days a week
Horseback Riding
GIFT CERTIFICATES
available 423-413-7955
Please call if your e-mails are not answered promptly. On busy days we are often unable to access the computer to retrieve new e-mails. Telephone # 423-413-7955. Thank you!

Peavine Creek Stable is up on a big hill overlooking Baggett Hollow, so there is normally a nice breeze in warmer weather. Also we ride through water regularly during the summer rides to keep both man & beast cool. The stable area is insulated with several fans. We don't let the heat beat ya' out summer horseback riding fun.

All photos on this page



are clickable to enlarge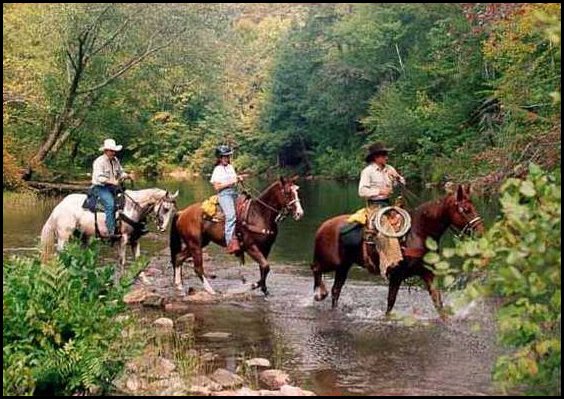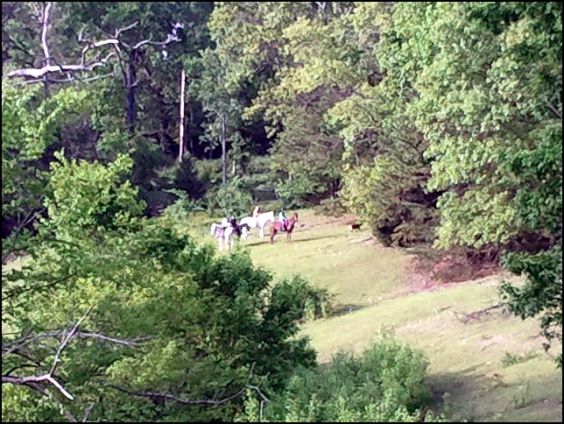 Johnson, Rose & Rita of New Orleans, Survivors of Hurricane Katrina
at Peavine Creek in Ringgold, Ga. with American Heeler, "Twiddle Dee"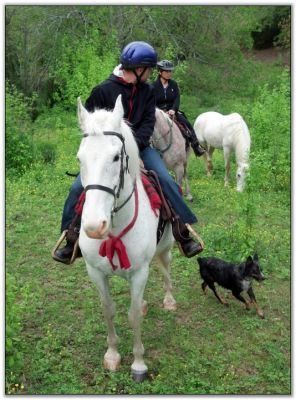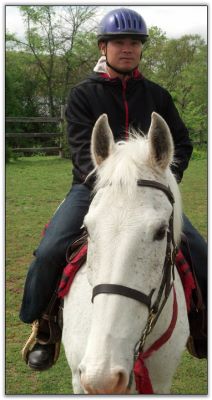 | | | |
| --- | --- | --- |
| Cowboy Matthew" | Saber & Ella from Atlanta | Saber & Ella from Atlanta |
| | | |

Father/Daughter Spring Break Trail Ride April 6th, 2013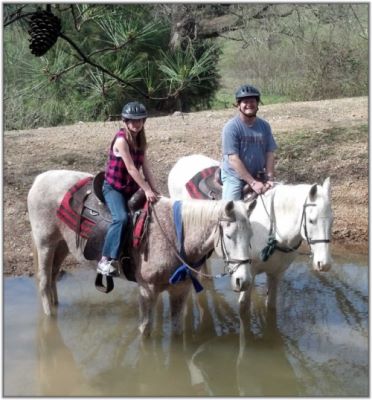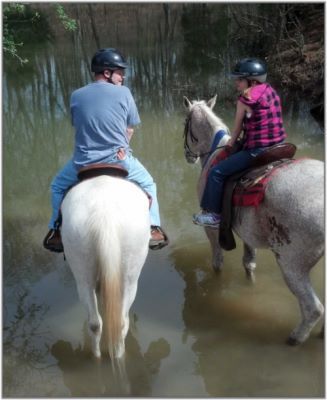 Lindsey riding Saber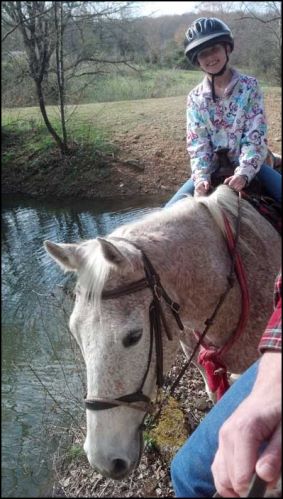 Anniversary Trail Ride June 2012 ~ Cindy & Chris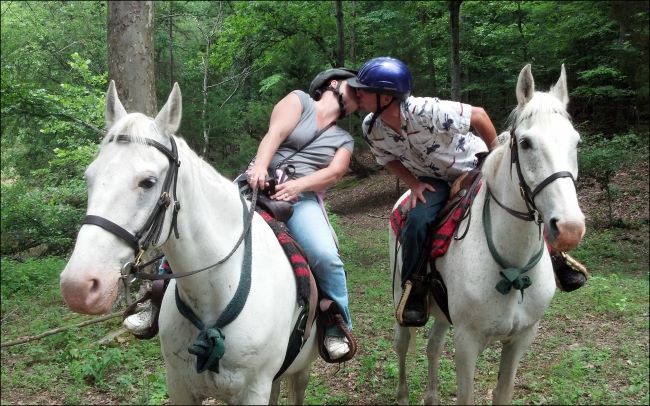 St Patrick's Day Trail Ride for Dan & Saber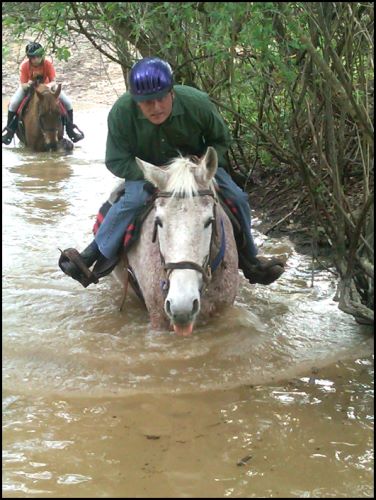 Trail Rider, Beau & Friend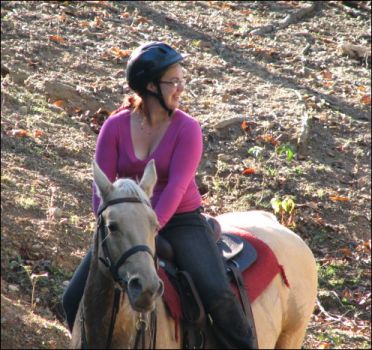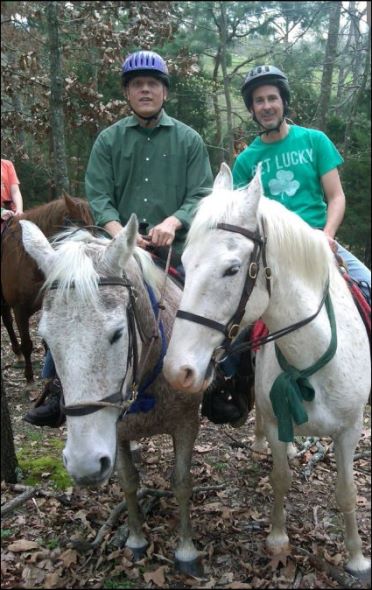 Helen & Paint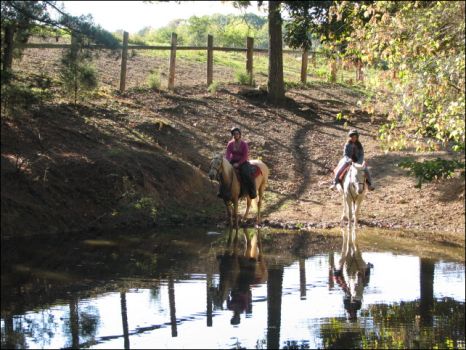 More Trail Riders at Peavine Creek
Paige riding on Paint.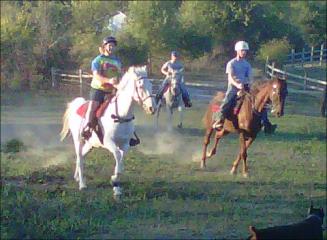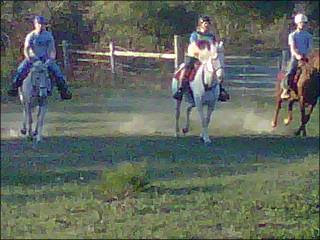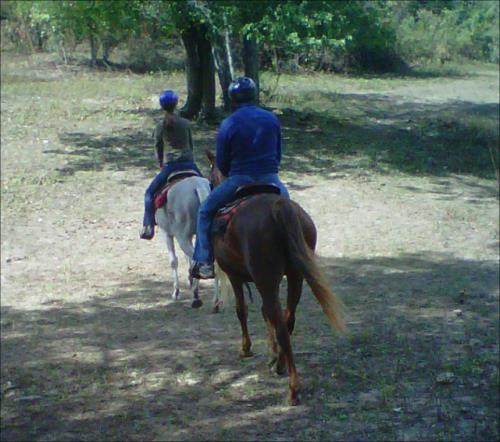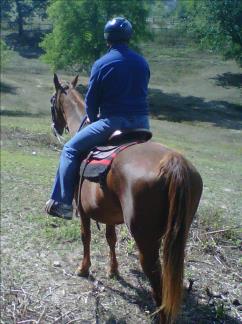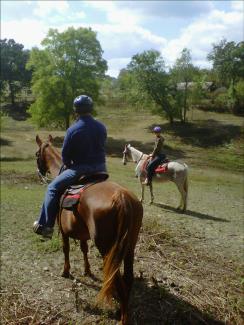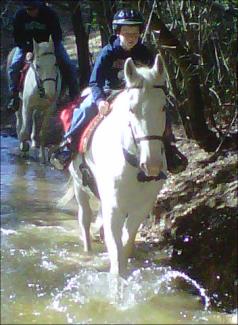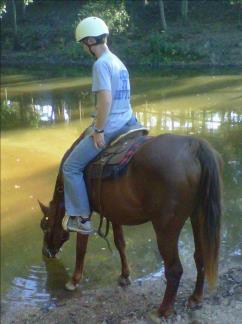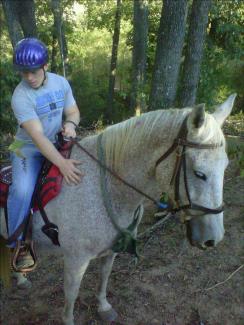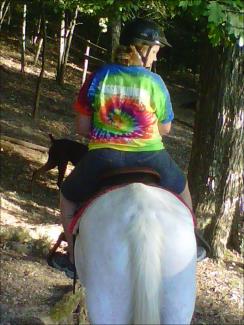 Roxy & Margaret trail riding with Sky & Haley

Margaret of Lookout Mountain,
Tennessee riding Chicago's Roxy Hart


Lookout Mountain, Tennessee's Margaret On Chicago's Roxy Hart
and Ringgold, Georgia's Haley on Crack The Sky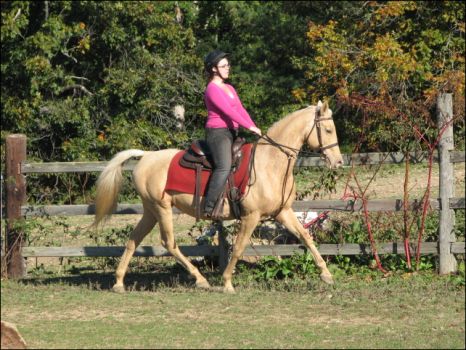 A Pasture View of Peavine Creek Farm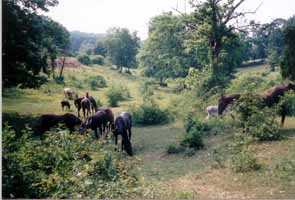 A Family enjoys a trail ride.....
Daisy, Don, Priscilla, & Will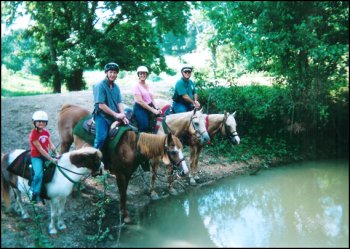 Mounts from left to right: Punk, Cowbay, So So, & Sugar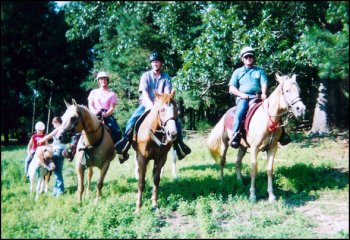 We offer instructional trail rides, i.e., we evaluate your skill level and try to match you to the horse most suitable for your level of riding, i.e., beginner, intermediate, or advanced. We also determine the style of riding you would prefer, as well as the size and make of saddle (English saddleseat, huntseat or western stockseat) you will be most happy and comfortable with.

You will receive assistance from a professional instructor as needed or desired at no additional cost. Prior to riding out onto the trails adjoining the stabling area, we start you out with an instructor in our 210 ft. indoor insulated arena. We have trails, hills, pastures, pond, indoor and outdoor arenas and fields accessible to the riding acreage. You will be charged a flat rate , regardless of age, or the time length of your ride. Most rides are from 1 & 1/2 to 2 & 1/2 hours. If no other reservations are booked behind you, you may often ride longer with no additional charges.

Please call or e-mail for RATES and RESERVATIONS ~ Thanks!
Reservations may be booked with credit card confirmation. There is more probability of getting the time you would like to reserve by booking ahead; however, if there is availability at an acceptable time for you, we will be happy to book your ride on the same day you call for reservations.
We require a 24 hour cancellation notice. We will NOT put any charges on your credit card unless you fail to concel, postpone, or show. Upon arrival, we accept cash, local checks, money orders or cashier checks. In urgency and important situations, we will accept a change of time or day in less than 24 hours, if we can accommodate you without loss of revenue,...so do not hesitate to make requests as necessary to accommodate your trip or plans. We will always strive to help; however, the sooner notified, the better options of scheduling or rescheduling.

Please NOTE: We give Horseback Riding Lesson, as well as Instructional Trail Rides. We are a professional horse training facility and horseback riding academy. We offer training of horses and instruction of riders from beginning stages of training and riding to horse showing. You do not have to own a horse to participate or to learn or advance. You are welcomed to call for more details or with further questions . At your request, we can also send you an e-mail regarding suitable or recommended riding attire.

Feel free to call us at 423-413-7955.
We are open 7 days a week -
10 AM to 10 PM.



- Contents -
Go to Our Horseback Riding & Lesson Program Page
Go to Horses For Sale Page
Go to Dogs For Sale Page
Go to Our Camp Program Page
Go to Equine Water Sports & Games Page
Go to Parties Page
You are on our "Trail Rides" Page now!
Go to Horses Bought & Sold Page
Go to Horse Shows
Go to Mules & Donkeys Page
Go to Our Favorite Pets Page
Go to Our Photos Around The Farm Page
Go to The Stallion Services Page
Go to Our Favorite Links Page
Go to Horse Transportation Page
Return to Peavine Creek Farm's Home Page

Peavine Creek Farm
Terre Phillips
Ringgold, Georgia 30736 USA
423-413-7955

LOCATED near Ft. Oglethorpe, Georgia, 4 miles over the GA/TN state line on I-75,
and 2 miles off the I-75 Exit 350 ramp, 12 miles Southeast of downtown Chattanooga
Call (423-413-7955) or E-mail for precise directions and more information. Thank you.




peavinecreek@gmail.com

Last Updated
by Dayle Haworth, Web Master
Copyright © 2000 - 2020 ~ Peavine Creek Farm ~ All Rights Reserved